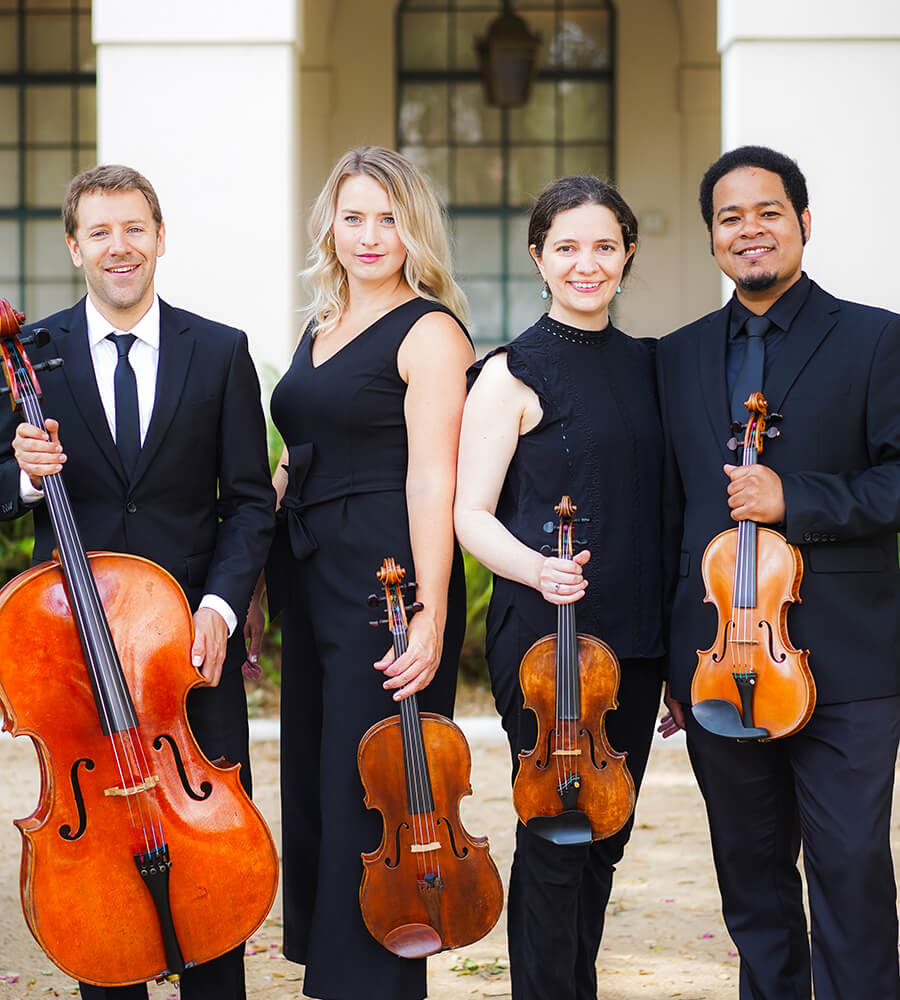 The Promenade String Quartet is one of the most sought after Los Angeles based ensembles for wedding ceremony music, corporate events, and parties.  The group performs both classical music as well as original arrangements of popular non-classical songs, bringing a level of artistry and professionalism that your guests are sure to notice.
"They were great and easy to work with. Very accommodating as well. Has a huge selection of music to choose from with great range."
Los Angeles cellist Trevor Jarvis has played with top artists including Andrea Bocelli, Wyclef Jean, Imogen Heap, and The Click Five, and performed in high-profile settings such as NBC's The Voice. He attended the prestigious Berklee College of Music in Boston, MA, studying privately with Grammy award-winning cellist Eugene Friesen and graduating summa cum laude with a degree in performance. Trevor's cello can be heard across an especially broad variety of projects ranging from string quartets and orchestras to major label pop recordings and Hollywood film scores, most recently on the TV series Star Trek: Picard and The Umbrella Academy. He has performed at world-renowned venues including the Dolby Theatre and Disney Hall, and recorded for film and TV at the Warner Bros. Eastwood Scoring Stage, Fox's Newman Scoring Stage, and the Barbra Streisand Scoring Stage at Sony Pictures Studios. Trevor also records remotely from his home studio, making his cello available to musical clients anywhere in the world.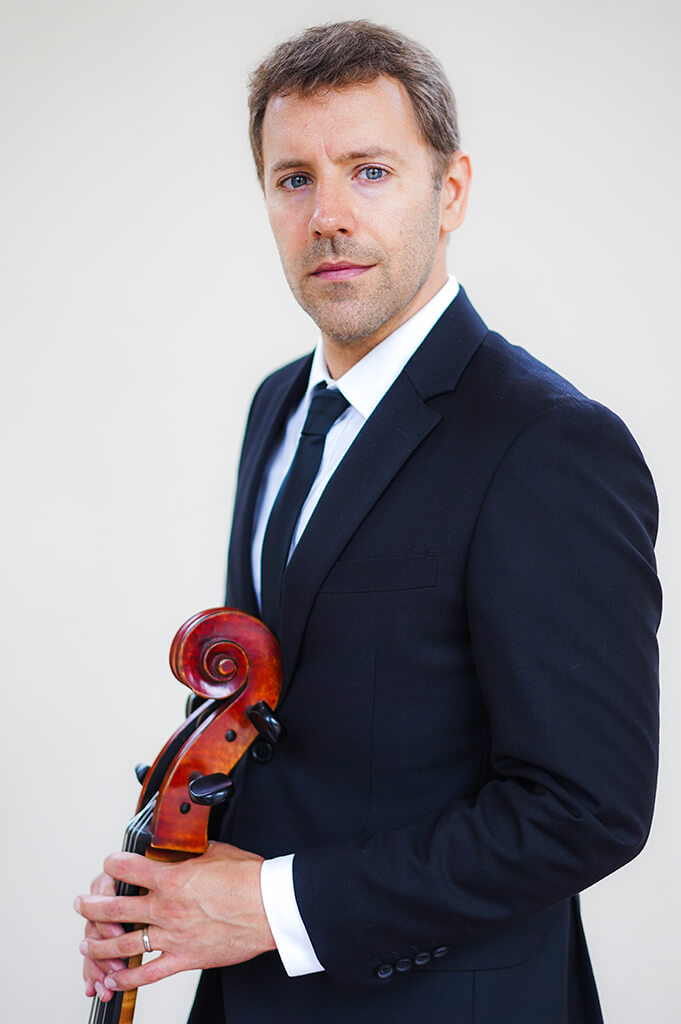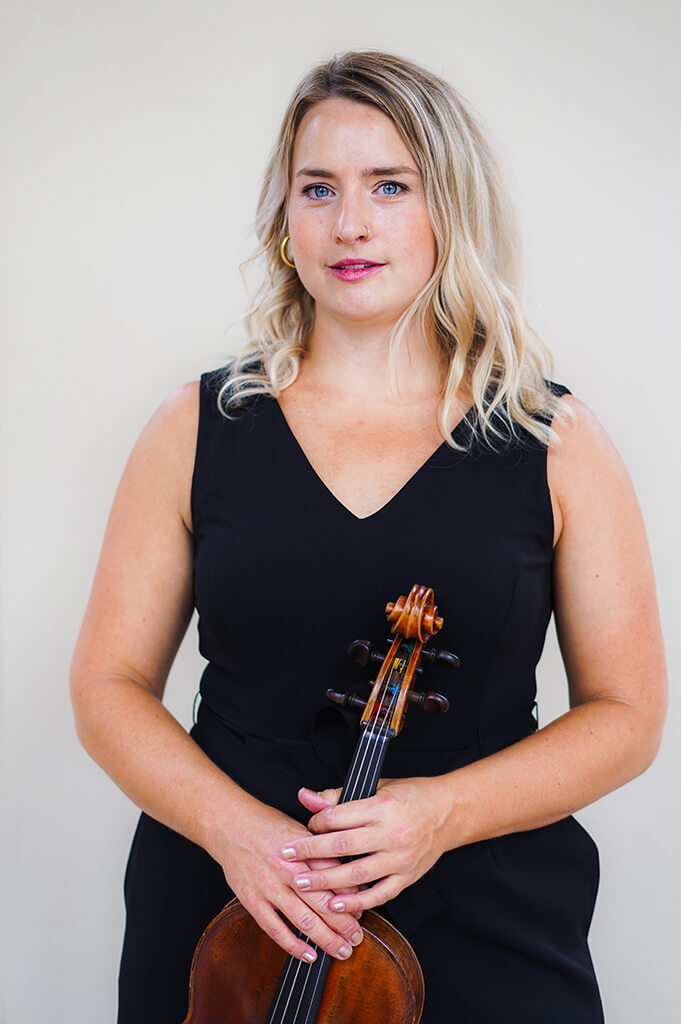 Violist Emily Williams, originally hailing from Boston, is an active performing artist based in Los Angeles. She enjoys a diverse career of performing and teaching, and has appeared in concert halls throughout North America, South America, and Europe. She currently performs as a substitute violist with the Los Angeles Philharmonic, and previously played with the Dallas Symphony Orchestra for two seasons. An avid chamber musician, Ms. Williams enjoys collaboration with contemporary composers. She also works as a studio recording artist, playing on scores for major motion pictures and TV shows, and has recorded for artists such as Meghan Trainor, CeeLo Green, and Charlie Puth. She has performed at festivals such as the Breckenridge Music Festival, Music in the Mountains, Aspen Music Festival and School, Heifetz International Music Institute, and Music Academy of the West.
Ms. Williams earned her Bachelors degree from the Jacobs School of Music at Indiana University, where she studied with Atar Arad and was the recipient of numerous awards, including the IU Music Faculty Award and T. Taylor Trust Scholarship, funding the purchase of her 1935 Mario Antonio Frosali viola. She went on to earn her Masters Degree from University of North Texas and Artist Diploma from Southern Methodist University, where she balanced her studies with frequent appearances with orchestras such as the Fort Worth Symphony Orchestra, Dallas Opera, New World Symphony, and the Dallas Symphony Orchestra.
Dr. Leila Núñez-Fredell plays violin with the DuselForty58 Chamber Ensemble, Pacific Opera Project, and Opera Ritrovata. A dedicated chamber musician, Leila has performed on concert series such as UCLA Live at Royce Hall, Casa Classic, Concerts at One, and Sundays Live at LACMA. Other performance engagements include collaborating with artists such as David Krakauer, John Cale, and the Borromeo String Quartet at the Italian festival Incontri in Terra di Siena. In the studio she has recorded music for films and played violin in a Funny or Die skit about Beethoven. She also serves as concertmaster of the Grassroots Chamber Orchestra in Ithaca, NY. She has performed as soloist with GCO and other orchestras concertos by Beethoven, Khachaturian, Sibelius, and Brahms.
Leila is a founding member and violinist for Opera Ritrovata, an organization dedicated to playing chamber music and opera by composers whose voices have been suppressed by prejudice. She worked with Pico-Union Housing Corporation's Graff Lab, an artist sanctuary, to win a 2019 Arts Activation Grant from the Los Angeles Department of Cultural Affairs for a Pico-Union Arts Festival which featured Opera Ritrovata. Opera Ritrovata has also made the first publicly available recording of vocal music from the opera L'Amant Anonyme by Joseph Bologne, the "Chevalier de Saint-Georges" (ca. 1739-1799). More recently, Leila was part of a team of editors of the first edition of L'Amant Anonyme. This edition was featured in Opera Wire and was used for LA Opera and Wolf Trap's recent production. Leila is a faculty member at the Colburn Music Academy, teaching and overseeing the music history curriculum. She teaches music theory, music history and applied violin at Los Angeles Pierce College.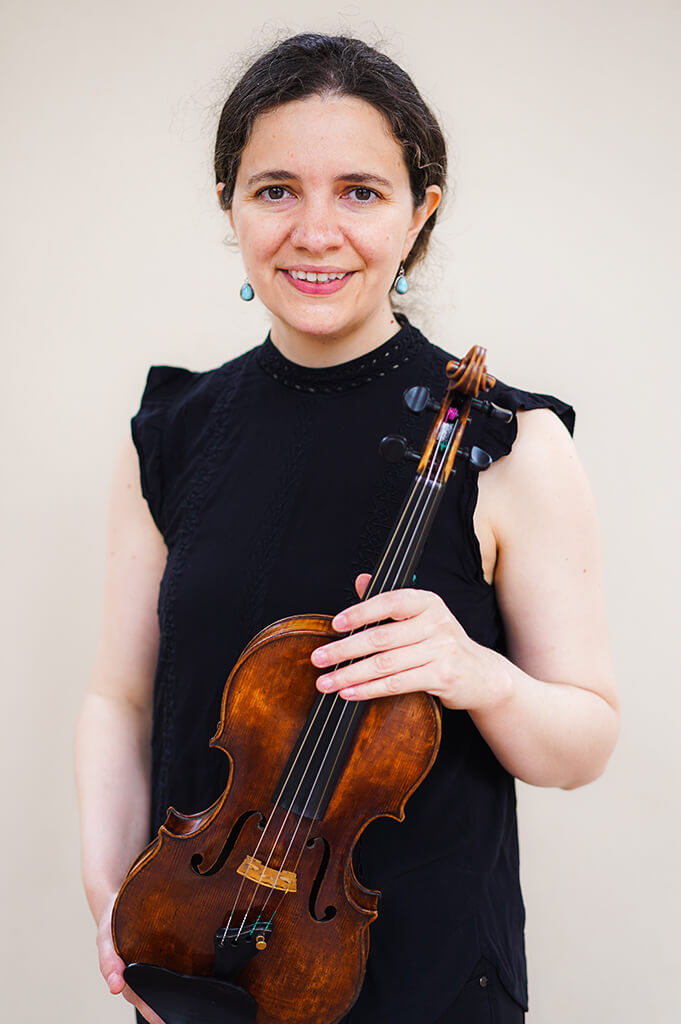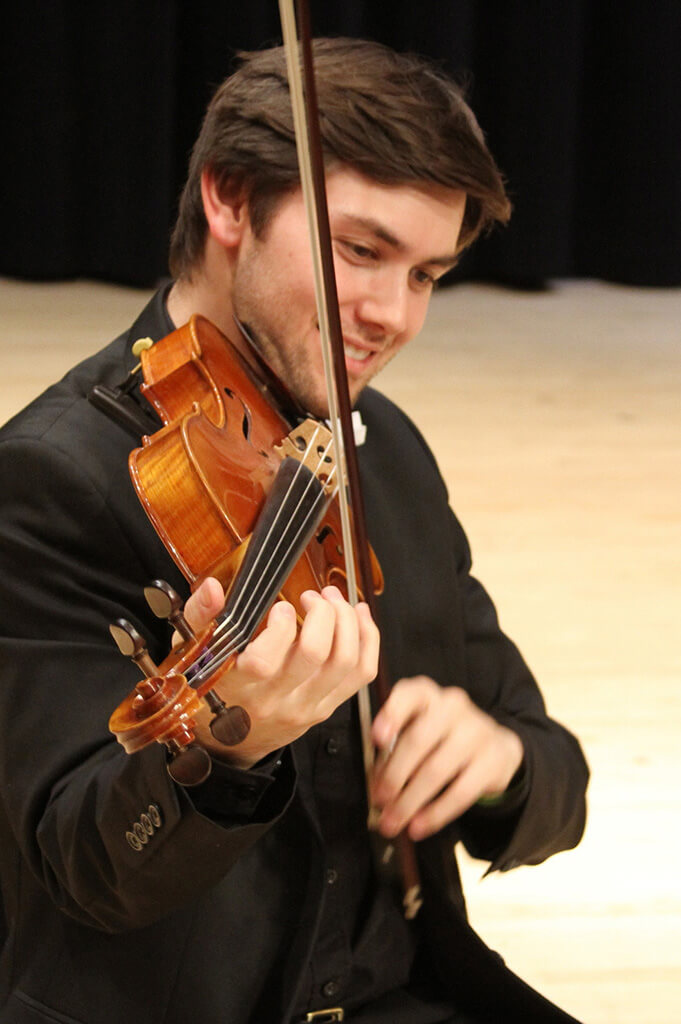 Violinist/Violist Samuel Lorenzini, a native of Seal Beach, California,  began studying violin and viola at 8 years old with Marcy Sudock.  He has been the concertmaster of Musique Sur La Mer Youth Symphony Orchestra and Honors Chamber Orchestra, and has won highest honors 4 years in a row at the Los Alamitos-Seal Beach Solo and Ensemble Festival.  Sam has been the featured soloist with MSLMYSO and YHCO both locally and abroad and has performed in numerous international venues, including the Grosser Musikverein-saal, in Vienna, the Mozarteum and the Sydney Opera House, in Australia, and the Teatro Nacional in San Jose, Costa Rica.  Sam received his Bachelor of Music Degree from the Herb Alpert School of Music at the University of California, Los Angeles (UCLA), with an additional emphasis on music education and is now pursuing a Master of Music degree in performance at the Bob Cole Conservatory at California State University Long Beach.