The perfect music for your wedding.
The perfect music for your wedding.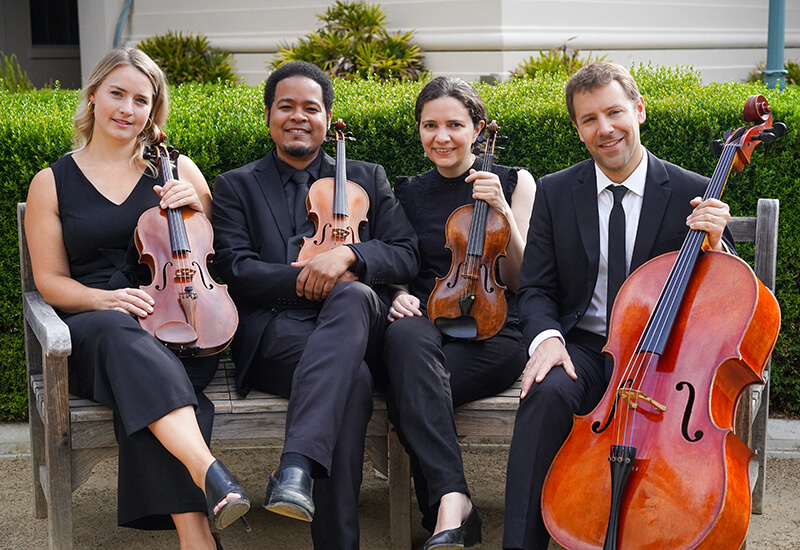 "We had the promenade strings quartet for our Malibu wedding last weekend and I cannot tell you the rave reviews I got from each guest regarding the beautiful music that they played in our outdoor vineyard wedding setting the mood for a magical night! Hiring these musicians is an absolute must, the way that they harmonize the pieces of music that they are able to play is unbelievable! With they brought to our wedding no other musical team could have done! They are a MUST!"
Mariam Yaz
Promenade String Quartet has performed at hundreds of weddings since we started in 2016. We can help you curate the perfect setlist for your wedding or special event!
We typically play a 30 minute prelude before your ceremony starts, as your guests arrive and find their seats.
Music for everyone walking down the aisle! Three songs is the standard – one for the wedding party, the bride, and the recessional at the end.
Have us stay for cocktail hour! Pop music is our specialty, we have a huge library of songs to choose from. We'll work with you to come up with the perfect playlist.
Want some nice elegant background music for your dinner reception before the DJ or band arrives? We can help transition your event into party mode with some of our upbeat selections.
All venues on this list we've played at multiple times, and we're on the preferred vendors list for many of these.
South Park Center Penthouse Floor